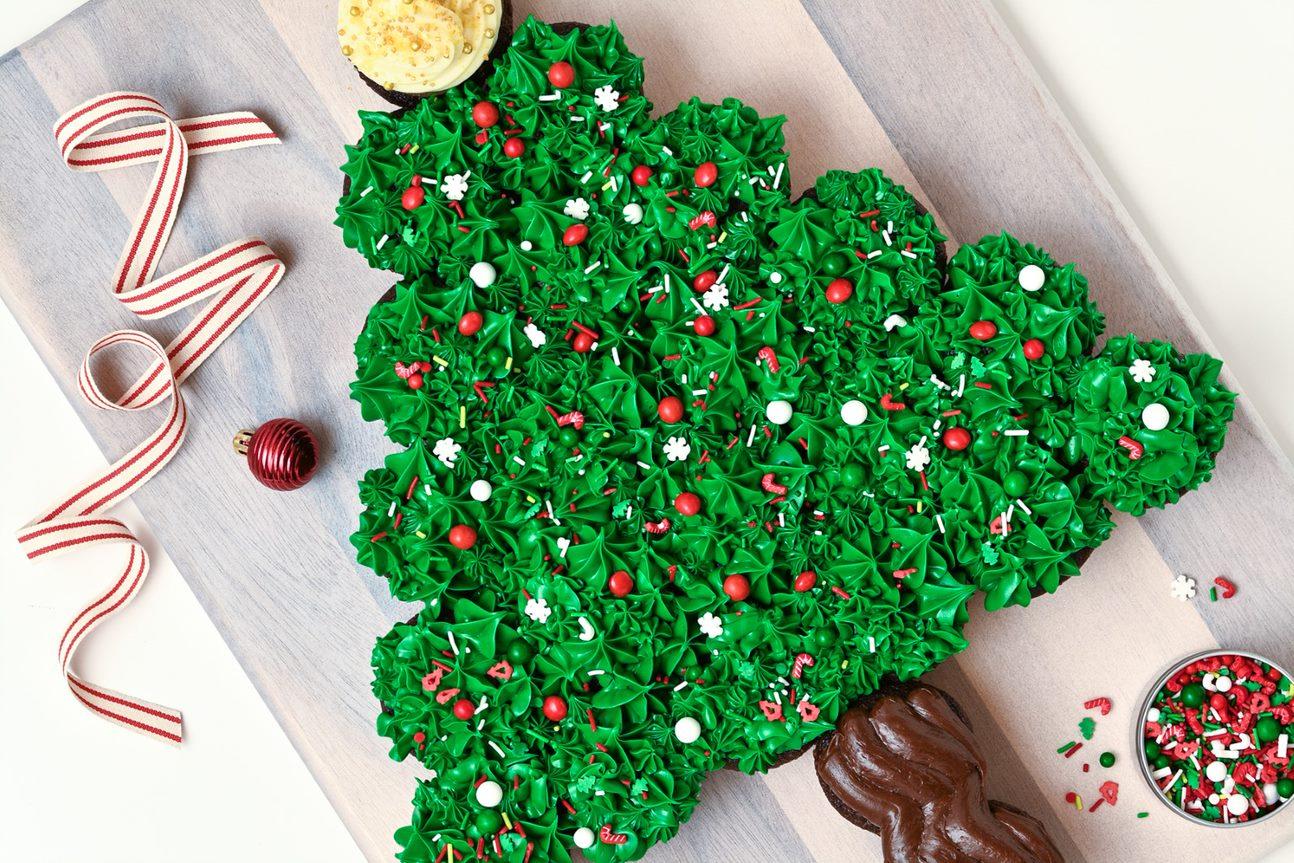 Ingredients
Cupcakes
2 cups all-purpose flour
¾ cup unsweetened cocoa powder
1 ½ teaspoons baking powder
½ teaspoon baking soda
½ teaspoon salt
1 ½ cups sugar
1 cup butter, softened
2 eggs
2 egg yolks
1 teaspoon vanilla extract
1 ½ cup Alta Dena Milk
1 cup mini real semi-sweet chocolate chips, reserve ¼ cup
Vanilla Buttercream
1 ½ cups butter, softened
1 ½ teaspoons vanilla extract
6 cups powdered sugar
2 to 3 tablespoons Alta Dena Milk
Yellow or gold decorator sugar or candies
Green food coloring
Holiday decorator sprinkles
Chocolate Buttercream
¼ cup mini real semi-sweet chocolate chips
½ cup reserved vanilla buttercream
How to
To make cupcakes, heat oven to 350° Line 24 muffin pan cups with paper baking cups; set aside.
In medium bowl stir together flour, cocoa, baking powder, baking soda and salt; set aside.
In large mixer bowl combine sugar and butter; beat on medium speed until fluffy (about 3 minutes). Add eggs, egg yolks and vanilla; continue beating, scraping bowl often, until well mixed.  Add one-third flour mixture and ½ cup milk; continue beating until combined.  Repeat 2 more times.  Stir in mini chocolate chips, setting aside reserved ¼ cup.
Spoon batter evenly into prepared muffin pan cups, filling each almost full. Bake for 20 to 22 minutes or until toothpick inserted into center comes out clean.  Cool 10 minutes; remove from pan to rack.  Cool completely.
To make vanilla buttercream, in large mixer bowl combine butter and vanilla. Beat at high speed, scraping bowl often, until fluffy.  Reduce speed to low; add powdered sugar, 1 cup at a time, and milk as needed to reach desired consistency.  Continue beating, scraping bowl often, until fluffy.  Remove ½ cup vanilla buttercream to use to make chocolate buttercream; set aside.
To make star tree topper, frost one cupcake; sprinkle with yellow or gold decorator sugar or candies; set aside.
Continue beating remaining buttercream adding green food coloring, small amounts at a time, until reaches desired color.
On large (21×18-inch) aluminum foil covered piece of sturdy cardboard or tray place cupcakes to form a tree starting with yellow or gold frosted cupcake at top. Follow with row of two cupcakes, then three cupcakes, four cupcakes, five cupcakes and six cupcakes.
Fill pastry bag with green frosting. Using various decorator tips frost green cupcakes as desired. Decorate with various holiday decorator sprinkles.
To make chocolate buttercream, in small microwaveable bowl melt reserved ¼ cup mini chocolate chips on high for 30 seconds; stir. Repeat until melted and smooth; cool slightly.  Stir into ½ cup reserved vanilla buttercream.  Place two cupcakes to form trunk of tree; frost with chocolate buttercream.
Tip:  Recipe makes 24 cupcakes.  Twenty-three cupcakes are needed to form tree.  Frost and decorate one remaining cupcake and enjoy!
Tip:  For quicker, easier frosting of cupcake tree; arrange cupcakes into tree as directed above.  Use spatula or table knife to frost cupcakes creating swirls.
Other Recipes You Might Like