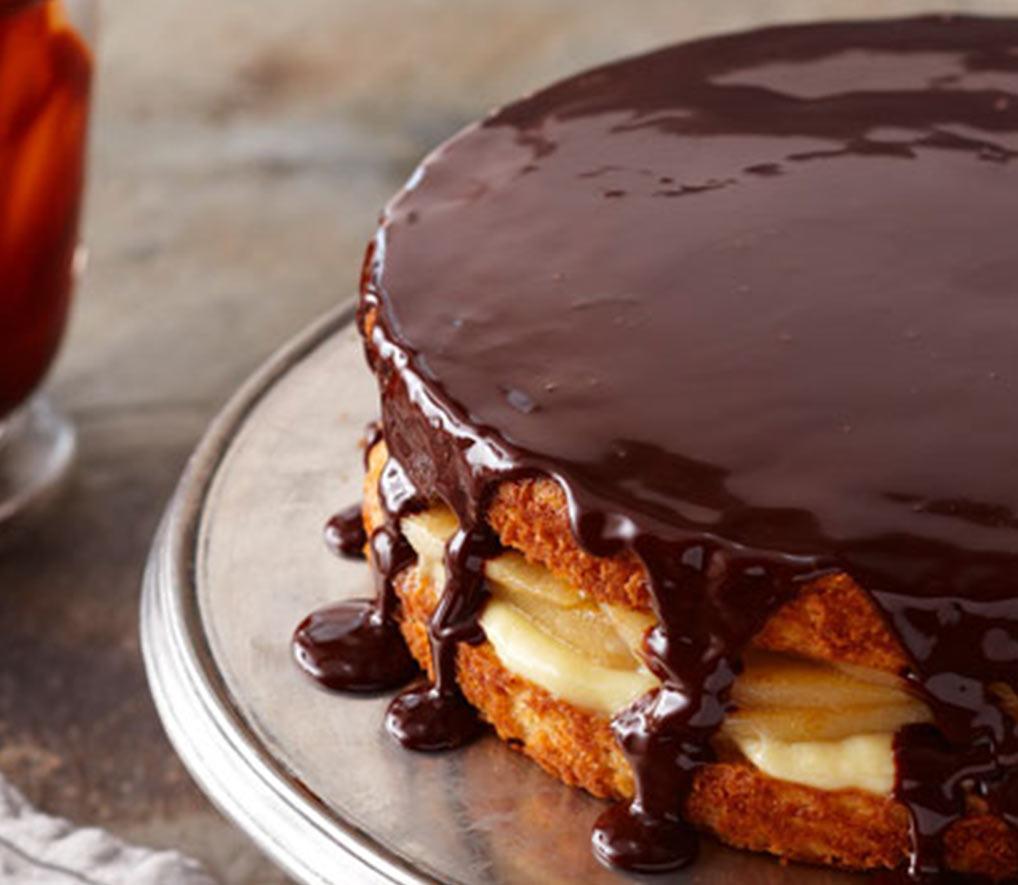 Pear Vanilla Cake with Chocolate Glaze
Ingredients
Cake
1 ½ cups all-purpose flour
2 teaspoons baking powder
¼ teaspoon salt
¼ cup unsalted butter
1 cup sugar
2 large eggs
1 teaspoon vanilla extract
½ cup Alta Dena milk
Pastry Cream
1 cup Alta Dena milk
2 tablespoons sugar
1 egg
1 egg yolk
2 tablespoons cornstarch
2 tablespoons sugar
1 tablespoon unsalted butter
½ teaspoon vanilla extract
Chocolate Glaze
½ cup Alta Dena heavy whipping cream
4 teaspoons unsalted butter
2 teaspoons light corn syrup
4 ounces bittersweet chocolate, finely chopped
Pears
2 small ripe Bosc pears, peeled, cored, sliced ¼-inch thick
4 teaspoons sugar
1 ½ teaspoons fresh lemon juice
How to
Heat oven to 350°F. Grease and flour 2 (9-inch) round cake pans; set aside.
To make cake, in medium bowl stir to combine flour, baking powder and salt; set aside. In large mixer bowl beat butter and sugar on medium speed, scraping bowl often, until light and fluffy (2 to 3 minutes). Add eggs and vanilla. Continue beating until well mixed. Add flour mixture alternately with milk, beating at low speed after each addition, just until mixed. Divide batter evenly between prepared pans. Bake for 20 to 25 minutes or until toothpick inserted into center comes out clean. Cool 3 minutes; remove from pans to cooling rack. Cool completely.
Meanwhile to make pastry cream, in 1 1/2-quart saucepan combine milk and 2 tablespoons sugar. Cook over medium heat until just begins to boil. Meanwhile, in medium bowl whisk together egg and egg yolk. Stir in cornstarch and 2 tablespoons sugar until smooth. When milk and butter mixture just begins to boil slowly drizzle, whisking constantly, into egg mixture being careful to not cook eggs with hot mixture. Return milk and egg mixture to saucepan; cook over medium heat, stirring constantly, until mixture comes to a boil and thickens (mixture will thicken quickly). Remove from heat; stir in butter and vanilla. Cover with food safe plastic wrap placing it directly on surface of pastry cream to prevent skin from forming. Refrigerate to cool.
To make glaze, in 1-quart saucepan cook heavy whipping cream, butter and corn syrup over medium heat until just begins to boil. Remove from heat; stir in chocolate until smooth. Let cool until glaze thickens slightly, but remains pourable (about 15 minutes).
To prepare pears, place pears in medium bowl. Sprinkle with sugar and lemon juice; toss to coat.
To assemble cake, place one cake layer on serving plate. Spread top of cake layer with pastry cream; arrange pears on pastry cream. Top with second cake layer. Pour glaze over top of cake, covering entire top and allowing glaze to flow down sides of cake.
Store leftover cake refrigerated.
Other Recipes You Might Like